December 12, 2009 - Final ballots were cast in this mornings Special Meeting, concluding ten weeks of discussion about Association finances and services. A record
67% of the community participated in this budget election
, with all participants voting for (or against) the a la carte services - no proxies were sought or assigned to the board. As with prior votes, the ballots will be reviewed and certified by a non-board member. While there were many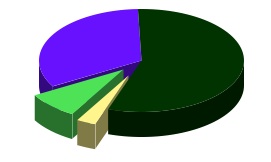 opinions expressed, most everyone agreed to accept a majority vote and work together to heal differences from the past.
Many of the items on the ballot were approved or defeated by very slim margins, which is indicative of the varying priorities of the owners, and underscores the importance of voting.
Dues for 2010 will be $72.50 a month. While no one welcomes an increase, there is solace in the fact that Beverly Oaks will be healthier (which improves property values) and will still have one of the lowest assessment rates in Irving.
Owners voted to extend the Painting Program from repainting on a 5-6 year cycle, to a more economical 8 year cycle and expand services to include wood repairs to the back of the homes, as well as the front. Fertilization and tree pruning contracts were also approved. The community agreed to have another "planting weekend" in 2010. In addition, over the next 24 months lights will be installed by the mailboxes and the exit alley walls will be painted.
There was a noticeable difference in the voting of residential and multi-family owners and this is only noted for the purpose of understanding the voting results. It is stressed that all voters are equal.
For anyone not seeing a pet project approved or wanting to pursue cost savings, please remember that there is next year and that we have a year to work together to raise awareness, examine alternatives, and solicit support.
We thank everyone for their comments and suggestions during the November 12th community meeting, in the blog, via letters (published online) and in today's meeting. The
Annual Meeting is scheduled for January 12, 2010
to discuss implementation plans.
---
Sales Tax Amnesty

This initiative was not approved.

Among the resident owners, this initiative carried with a slight majority of those voting.

Among multi-family owners, this initiative failed by a large margin.

---

Fertilization / Tree Pruning

This initiative was approved by a large margin.
Dead Shrub Replacement

Option 1 of this initiative was approved by a large margin.

This provides for a planting weekend similar to the one in 2009 where the Association purchased plants wholesale and the owners co-payed and worked together to plant the material.
Paint Program

The paint program will was extended to a 8 year cycle by a very large margin (88%).

The program was expanded to include repairs on the rear of the home by a smaller, but significant margin.
Traffic Spikes

This initiative was not approved.

Among the resident owners, this initiative carried a majority.

Among multi-family owners, this initiative failed by a large margin.
Lamp Pole Replacement

This initiative was not approved.

Among the resident owners, this initiative carried a majority.

Among multi-family owners, initiative failed by a large margin.
Lamp Post Bulb Service

This initiative was not approved by a significant margin.
Speed Bumps

This initiative was not approved by a significant margin.
Illuminate Mailbox Area

This initiative was approved.

Among the resident owners, this initiative carried with a strong majority.

Among multi-family owners, initiative failed by a large margin.
Paint the Exit Alley

This initiative was approved.

Among the resident owners, this initiative carried with a strong majority of those voting.

Among multi-family owners, initiative failed by a large margin.

Establish an Emergency Reserve
Approved
-----
Basic Association Expenses
~Management Company
~Taxes and Insurance
~Water and Electric Utilities
~Admin Expenses

Approved
$28.67
Contribute to the Emergency Reserve
Approved
$0.87
Contribute to the Capital Reserve
Approved
$4.77
Completion of 2006, 2007, 2008 audits
Approved
$3.82
Early Payment Discount
Approved
$5.00
Settle unpaid sales tax under State Amnesty Program
Not Appr
$0.00
Weekly Landscaping
Approved
$13.02
Fertilization / Tree Pruning
Approved
$2.45
Dead Shrub Replacement / Planting Weekend
Approved
$0.24
Painting Program
Approved
$12.15
Replace the Traffic Spikes
Not Appr
$0.00
Replace the Front Lamp Posts
Not Appr
$0.00
Light Bulb Service to Front Lamp Posts
Not Appr
$0.00
Speed Humps
Not Appr
$0.00
Install Lighting by Mailboxes
Approved
$0.87
Paint the Exit Alley
Approved
$0.69

---

Monthly Dues Rate
$72.50
---
Please share any comments you have online: