May 7, 2009 - The Association took full title and possession of the 800 sq ft structure located at 2023 Wilshire Drive (DCADfrom Howard Freeman, the original builder from 1983.

The property is now used for the Spring and Fall block parties and as a community meeting place. It can be used by owners for meetings or transitional storage needs of up to 10 days.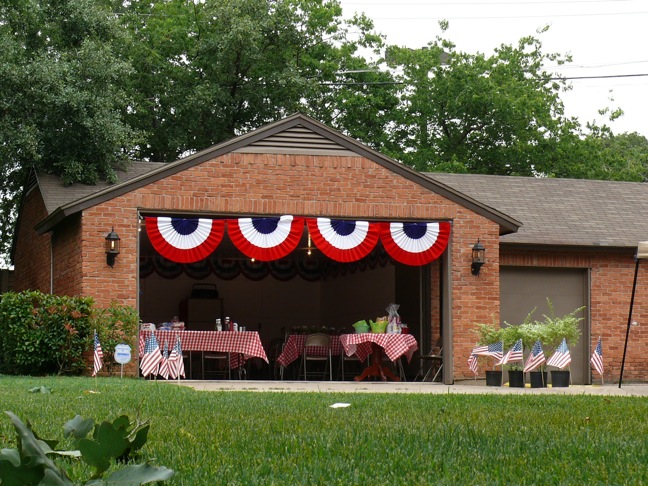 In 2009, the building was in default on taxes, in a state of disrepair and uninsured. The grounds has become a dumping area, a 1/4 of a ton of mortar sand had been dmped in 15 two - foot high mounds, trash and a shopping cart were piled up behind the garage, the turf was dead and baron, and the wood fences were broken and partially falling down. The facility was occupied by one owner using it as free storage facility.

The occupants of the garage were vacated, the tax matters resolved, and the structure was insured. The roof was replaced (via insurance claim, 2013), the exterior was painted (2012), the inside was cleaned with the main garage receiving drywall repairs (from prior break-ins) and paint (2009). The fences were repaired and painted (2011). Leather Leaf Viburnum were planted along the fence line (2010) to create a natural fence and ultimately cover the commercial screening fence owned by the car dealership and the backyard views of the homes on Cooper Drive and the grounds sodded . The non-irrigated portion of the lot was irrigated (2010) to support landscaping and reverse the damage to the foundation which had cracked and tilted. The facility was furnished with used tables and seating for sixty purchased from a from a rental company that was going out of business (2011).