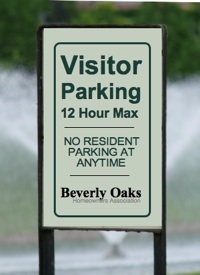 January 4, 2010 - Chronic parking problems in the visitor parking area have been resolved through owner cooperation. No vehicles were towed. The Association will continue work with residents to maintain the availability of visitor parking in a cooperative fashion.

One issue is that 50% of the visitor parking is located on rental property easements and often the renters are unaware of the parking requirements. Communication has helped.

New "no parking" signs have been designed and installed. This was necessary as six of the eight visitor parking signs are missing - and the remaining two signs in very bad shape and displaying the name/phone number of a towing service not used by the Association for many years.

Any resident needing to use the visitor parking should contact the board for a temporary permit which must be displayed in the front windshield.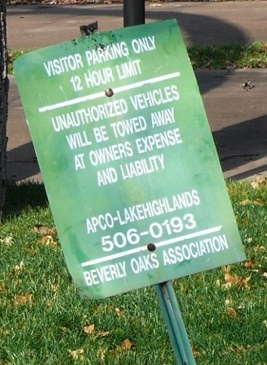 Hopefully by working together and through better communication, parking availability can be maintained in the community. If you see parking violations, please report them. We don't have a patrol. Managing the parking is a responsibility we all share.